A Virtual Event! ZOOM with OSRT!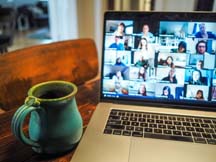 April 9 - 10, 2021
Zoom with the OSRT! Learn and earn up to 12 CE credits. The 80th OSRT Annual Meeting will be held virtually through Zoom on Friday, April 9th and Saturday, April 10th, 2021. The Annual Meeting is a great way to update your professional knowledge and skills and review radiographic content. The meeting has something for everyone: practicing technologists, students, and those preparing for the ARRT's Continuing Qualifications Requirements (CQR). The event is available for OSRT members and non-members. You can register for a single day session, either Friday or Saturday, for a total of 6 CEs (on either day) or register for the entire 2-day session and earn 12 credits.
Program Schedule
Friday, April 9th: 8:45am-3:50pm. A break for lunch is planned from from 11:50am-1:00pm.
Saturday, April 10th: 8:45am-4:00pm.
In addition to CE sessions, you can get involved in your profession--the OSRT Business Session will be held from 11:50-1:00pm on Saturday. This is a good way to learn about the business of OSRT and its role in serving Ohio RTs.
Registration Fees $$
Single day: Choose Friday or Saturday
RT Member: $30
RT Non-member: $50
Full 2-days: Friday and Staurday
RT Member: $60
RT Non-member: $100
Student: $20 Choose Friday or Saturday or both days.
Want to sponsor the virtual event? No problem--we welcome you--
Vendors apply now: Vendor/Sponsor Application
Meeting Details
Register Now-Online Registration is now open!
For more immediate needs, contact the This email address is being protected from spambots. You need JavaScript enabled to view it..