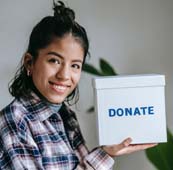 The OSRTERF would like to congratulate the winners of the 2023 Foundation Donation Nation Gift Card Raffle. On Saturday May 6, 2023, Denise Moore and Philip Ballinger were selected in random drawings and each will receive a gift card package.
Names for the drawing were entered for each $50.00 in donation to the Foundation between May 1, 2022 through April 30, 2023. These donations are used to award grants to technologists, therapists, and students as well as awards for the winners of the Case Study Presentation competition.
Thank you to all for your generous donations to the Foundation!! Again, congratulations Denise and Phil!!