Come and Celebrate with Colleagues at the 2023 Annual Meeting of OSRT!
The meeting will be held April 13-15 2023.
DoubleTree by Hilton Columbus-Worthington
Columbus (Worthington), OH
614-885-3334

Do You know someone that deserves the Technologist of the Year Award?
In 1973, the OSRT Board of Directors established the Technologist of the Year Award to be presented at each Annual Meeting.
Congratulations to the 2021 OSRT Technologist of the Year! No nomination was received for 2022. Your name could be here! Nominate yourself or someone else who deserves to be recognized.

Gloria Albrecht, M.S. R.T.(R)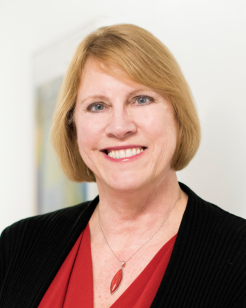 Interested in nominating some deserving RT? Check out the Award Rules

Do you know someone that has offered unusual, dedicated service to OSRT? If so, that individual may be deserving of a Life or Honorary Membership Award. Read more.

The 81st annual meeting of the Ohio Society of Radiologic Technologists was held April 7-9 at the DoubleTree by Hilton Columbus-Worthington. It was very exciting to be back in person for the 81st Annual Meeting! Many excellent presentations,connections, conversations, and lots of learning took place. There were 107 technologists and 270 students in attendance. Dr. Heather Moore, Secretary of the ASRT Board of Directors; Dr. Tracy Herrmann, First Vice-Chair ofthe JRCERT Board of Directors; Dr. Julie Gill, President-Elect of the AEIRS Board of Directors; and LD"Max" Maxwell, Treasurer of the PSRT provided greetings from their respective organizations at the business session. The Francine Todd Memorial Honors Reception had a new format this year. Dr. Terri Bruckner was the Past Presidents' Lecturer and delivered a wonderful presentation about conservation entitled "Touch the Heart."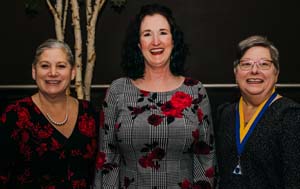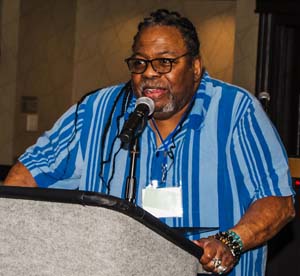 Tracy Herrmann, Heather Moore, Julie Gill,
and Larry Maxwell presented greetings.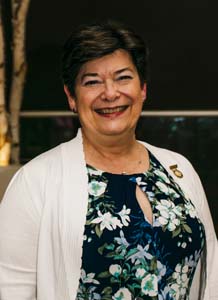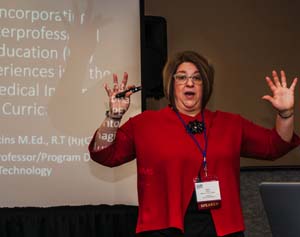 Conference Attendees and Dana Eskins presents
Terri Bruckner, Past Presidents' Lecturer

The OSRT Education and Research Foundation (OSRTERF) Case Study Presentation Competition is open to all registered and student technologist members of the OSRT. There are separate technologist and student categories for the competition; students and technologists will not compete against each other. The competition is a two-step process and will be judged on the basis of a Microsoft PowerPoint or Google Slide presentation with an accompanying outline and a final case study live presentation for participants at the OSRT Annual Meeting.
Step 1: Submission of the competition application, a Microsoft PowerPoint or Google Slide presentation (saved as a PowerPoint file format), and a detailed outline of the presentation content.
Step 2: A live presentation of the submitted Case Study for attendees at the OSRT Annual Meeting.
Please thoroughly review the submission information, competition guidelines, and grading rubric for specific competition rules.
This competition is meant to be a learning opportunity for all participants and should emphasize the value and use of diagnostic imaging. The intent of the case study is to present a complete medical imaging case to your peers following a patient from initial symptoms or initial presentation through treatment and prognosis. The presentation must provide an insight into the importance of medical imaging and, if appropriate radiation therapeutic techniques and their roles in the healthcare profession.
The purposes of the competition include:
An opportunity to research a particular disease, condition, or injury
Examining the role that diagnostic imaging and radiation therapeutic modalities play in the diagnosis, treatment, and management of disease; a minimum of 3 diagnostic or therapeutic modalities must be included in the presentation, one of which is routine radiography
Providing a peer educational experience for registered and student radiographers
This is a competition that requires a minimum standard score for an award. Application materials and preliminary presentation materials will be reviewed by the OSRTERF to determine which proposals are eligible to continue in the competition and be presented at the Annual Meeting. Minimum standard criteria must be met to be selected to present your case study and be eligible for an award. A maximum of 8 case studies may be chosen to continue to the Annual Meeting presentation portion of the competition. The distribution of the 8 selected case studies will be determined by the number of technologist and student applications.
Please note that any materials associated with the presentation must adhere to HIPAA guidelines and be correctly referenced using the most current AMA or APA formatting style. Plagiarism and non-compliance with HIPAA regulations will result in automatic disqualification of any application or presentation.
Your library can help you with AMA or APA styles, or you can find some helpful free links online, like these:
AMA Manual of Style; APA Style, or I University Library.
Click on the document links below for guidelines and rules, and judging rubrics. When ready to apply and upload, click the "Apply & Submit Now" button--then scroll down when the page loads to complete the application form.

Congratulations to the 2022 Quiz Bowl Winners
1st Place: Columbus State Community College
2nd Place: UC Blue Ash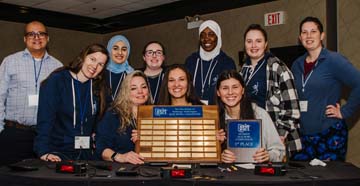 This could be your team! To sponsor a Quiz Bowl team at the next O.S.R.T. Annual Meeting, please complete the online application form below and submit the $20.00 participation fee no later than March 1. Fees associated with the Quiz Bowl event support the O.S.R.T. Applications and participation fees received after March 1 will not be accepted and will be returned to the Program Director. Please note that the application AND the fee must be submitted by the deadline in order for your team to participate.

Only one team application is permitted per institution and only eight student team members are permitted per team. At the time of application, each student team member must be a member of O.S.R.T. or hold membership in another state radiologic technologist professional society (if outside of Ohio). The O.S.R.T. Executive Secretary will verify student membership for all team members listed on the online form. If your team is from outside of Ohio, you must fax or mail a copy of each team participant's membership card prior to the deadline (see application automated Thank You for fax and mailing address information once the application is submitted).

All student team members must be registered for the Annual Meeting by the pre-registration deadline. The Program Director will be notified of any student team member(s) not meeting the membership and meeting pre-registration requirements and, these students will not be permitted to participate in the competition. Students deemed ineligible for participation will not be replaced by another student.
Questions or inquiries regarding the Quiz Bowl can be directed to Quiz Bowl Committee Co-Chairs, This email address is being protected from spambots. You need JavaScript enabled to view it. or This email address is being protected from spambots. You need JavaScript enabled to view it..
Click this link to access the online application form