This ConneX section of the OSRT Web site is designed to centralize current and relevant information for RTs, Students, and GXMOs. It includes education and employment opportunities and pertinent professional links. Some of the content listed under ConneX is available to members only as a member benefit. A logon screen will appear for the members-only areas.

Have you ever wanted to present at a professional meeting? OSRT offers a mentor program to help you develop your presentation skills. We can help you develop a proposal to present at the OSRT Annual Meeting. This email address is being protected from spambots. You need JavaScript enabled to view it. for information.
Where would the medical imaging community be if Wilhelm Roentgen, Thomas Edison, or Marie Curie's career took a different path? These are just a few examples of why scholarship is fundamental to our profession. It moves us forward, not only in developing new technologies to aid in patient care and tr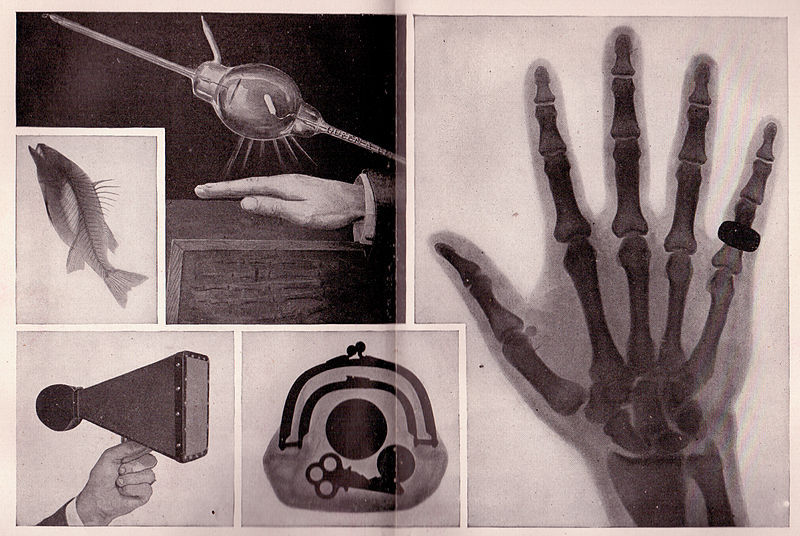 eatment, but it also allows the medical imaging profession to share our knowledge with the rest of the world.
The scholarship of any discipline is defined by the foundational research and writing specific to the practice of that discipline. In other words, research and scholarly inquiry is central to the advancement of the radiologic sciences professions. Existing knowledge is confirmed and new knowledge is generated within the scholarly community, which most commonly resides in academic institutions. However, in the radiologic sciences, our discipline coexists in both an academic and clinical environment. Knowledge gained through scholarship is only valuable when it is applied in a clinical setting to improve the quality of care we provide to our patients; and knowledge gained in the clinical setting serves as an inspiration for innovative research. Therefore, advancing scholarship within our profession is everyone's responsibility!
Understanding the role of this translational research is equally important for those interested in conducting research in the radiologic sciences and in helping radiologic science professionals become good consumers of research. So even if you never plan to conduct your own independent studies, participating in scholarly activities and understanding cutting edge research will improve your ability to utilize credible evidence in making clinical decisions.
The OSRT supports an expectation of scholarship in all settings, in all radiologic science and medical imaging disciplines. Our scholars are all of the practitioners, researchers, and educators who are reflective and critical thinkers. Research and the dissemination of new knowledge is a very important aspect which defines each unique discipline within the radiologic and imaging sciences. We are all knowledge builders and knowledge users within out areas of practice, so understanding research and scholarly writing is a great way to advance your professional development. It allows us to think critically outside of the box, to collaborate with colleagues, and to expand our professional skills.
Hopefully involvement in the OSRT research and writing activities will inspire you to make a difference and help the radiologic science professions grow through your contributions to original research, writing, and publication. The OSRT has many talented and passionate members that would excel at research and writing. The OSRT will be offering a variety of virtual and face-to-face educational experiences to help you begin to cultivate these skills!
Check out these resources:
OSRT Education and Reseach Foundation Grants
NIH Research Matters- A Weekly Update of Research Advances
ASRT Education and Research Foundation Page

AAPM CARES is an engaged community of stakeholders committed to Communicating Advances in Radiation Education for Shielding (CARES).
Join the current conversations about the role of patient gonadal and fetal Shielding in Radiology. A set of six modules provide information about the history of patient gonadal and fetal shielding, the scientific basis for its widespread implementation in the 20th century, and the science behind recommneded current practice changes. Patient shielding will be discussed with the context of image quality and dose optimization in radiographic imaging, including patient positioning and collimation.
Anyone can view these six modules and earn free CE credits! Click the link to the six modules. You will be taken to the AEIRS page where you will see the six modules listed with an RSVP button for each module. Click the RSVP button then click the Register Today Button. Go to the Category A Credit and change the value to 1. Then click the Checkout button. From there you will fill in your name and email address. An email with two links will be sent to your inbox, one link to complete the module and the other to the module's quiz.

The University of Cincinnati Blue Ash College invites applications for a 9-month, Full Time, Salaried, Tenure Track Faculty position for our Radiologic Technology program beginning spring, 2023. UC Blue Ash College is the largest regional college in Ohio offering primarily associate degrees, with an enrollment of approximately 5,100 students. The UC Blue Ash College's Radiologic Technology Program is a selective admissions program admitting approximately 24 students per class each year.
Description
Faculty responsibilities include teaching courses in a variety of formats (face-to-face, on-line, and/or hybrid) within the associate degree of Radiologic Technology program, bachelor's degree of Applied Administration Healthcare Leadership track, and other courses within the Allied Health Department; supervising radiologic technology (radiography) students in the clinical and laboratory settings, planning and documenting course and clinical content in accordance with national curriculum and accreditation standards, participating in recruitment, academic advising, program resource development, and other program, department, college, and university functions. Candidate will also be expected to provide service to the department, college, and university and demonstrate evidence of professional activity. The ideal candidate will exhibit excellent verbal and written communication skills and a commitment to excellence in teaching.
Minimum Qualifications
This position requires all of the following prior to the effective date of the appointment: Must hold ARRT certification in Radiography and hold or be eligible to hold an unrestricted Ohio Radiologic License. A minimum of bachelor's degree in radiologic technology or an associate's degree in radiologic technology and a bachelor's degree in a health, education, or other applicable field. A master's degree in a related field is REQUIRED. Curriculum Vitae must document a combination of at least three years of teaching and radiography digital imaging clinical experiences. Ideal candidates are those with certification in cardiac interventional imaging, computed tomography, or both. Must be detail-oriented, have proficiency in English, excellent information literacy/computer skills, and reliable transportation to clinical sites. Faculty members must also be able to perform the essential functions listed below.
Applicants MUST upload the following documents: 1) a cover letter 2) CV/Resume, 3) unofficial transcripts, 4) ARRT certification, and 5) a list of 3-5 professional references.

Let OSRT Work for YOU!
Published monthly, "OSRT Job ConneX" is a sensible web option for employers to connect to hundreds of OSRT members, technologists, students, educators and other web site visitors. Free employee recruitment postings are available to any Ohio employer. To access employment ads, click link at the bottom of this page after reading critiera below.
To place an ad simply email information identified in the criteria below. Forward e-info to the This email address is being protected from spambots. You need JavaScript enabled to view it..

Jobs ConneX
Employment opportunities for your Ohio employers may be posted on a 30-day basis free as an OSRT Jobs ConneX service. Jobs ConneX ads are posted and prioritized by date of request.
Company name
Address & phone
URL/Web address
Name of contact person & email address
Open position title & description (limited to 100 words)
Current Job Postings:
University of Cincinnati Blue Ash College-Faculty Position
Employment opportunities for Ohio employers may be posted free on a 30-day basis as an OSRT Jobs Connex service. Tell your employer to post here.

Find Jobs, find resumes, see employer job posts at Indeed.com
Click Here to go to the ASRT JobBank

AAPM - American Association of Physicists in Medicine
ACR - American College of Radiology
ASRT - American Society of Radiologic Technologists
ASRT - Legislative News
ASTRO- American Society of Therapeutic Radiology & Oncology
ARIN - Association for Radiologic & Imaging Nursing
AEIRS - Association of Educators in Radiological Sciences
AHRA - Association of Healthcare Radiology Administrators
ARRT - American Registry of Radiologic Technologist
ARDMS - American Registry of Diagnostic Medical Sonographers
ARRS - American Roentgen Ray Society
CDC - Center for Disease Control & Prevention
FDA - Food and Drug Administration
ISCD - International Society of Clinical Densitometry
ISMRM - International Society for Magnetic Resonance in Medicine
ISR - International Society of Radiology
JRCERT - Joint Review Committee on Education in Radiologic Technology
NCI - National Cancer Institute
NIH - National Institute of Health
NRC - U.S. Nuclear Regulatory Commission
ODH - Ohio Department of Health Home Page
ODH - ODH Radiologic Licensure Program
OSHA - Occupational Safety and Health Administration
Online Radiology Resource - Radiologyweb.com
RRS - Radiation Research Society
RSNA - Radiological Society of North America
SNMMI - Society of Nuclear Medicine and Molecular Imaging
SPR - Society of Pediatric Radiology
SCVIR - Society of Cardiovascular & Interventional Radiography
SCMR - Society for Cardiovascular Magnetic Resonance
SDMS - Society of Diagnostic Medical Sonographers