In 2008 the OSRT established a separate entity called the OSRT Education and Research Foundation (OSRTERF). The Foundation strives to maximize fundraising through innovative strategies in order to offer scholarship and research opportunities to encourage academic achievement. Donate Online Now
The mission of the OSRTERF is to fund students and professionals engaged in education and research to promote the highest quality patient care. The Foundation's Vision is to promote professional excellence through scholarly pursuits across the radiologic science practice arena in Ohio.
As a separate IRS tax-exempt entity, the Foundation has its own Board of Directors and operates through distinct Foundation Bylaws. Click to read the Foundation ByLaws and about the Foundation history.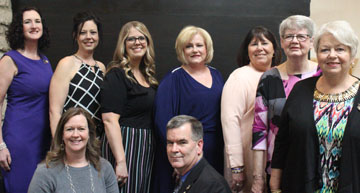 Front row: Leslie Mayes, Jay Ball
Back row: Heather Moore, Tiffany Roman, Whitney Reese,
Gail Schroeder, Ellen Johnson, Deb O'Mellan, Sheryl Bacon
Not pictured: Guy Keener, Jessica Bates
You Can Make A Difference! Make a Donation Now!
You can make a difference in helping others in the profession by a generous donation to the OSRT Education and Research Foundation. You don't need to spend a fortune to make a difference! Your tax-exempt contributions provides financial support for medical imaging professionals in pursuit of lifelong learning by expanding knowledge and skills in the clinical, administrative, and educational settings. This opportunity is vital to the improvement of patient care and the advancement of imaging professionals.
Every donation helps, from educating new students to helping professionals become better technologists, therapists, managers and educators. OSRT Educational and Research Foundation donations may be made online or through the mail. Click the Donate Now button below to access the easy to complete online donation form. Don't delay--donate today!